Drone Response
Small Unmanned Aerial, Land, or Submersible Vehicles (drones) are increasingly deployed to support time-critical tasks such as search-and-rescue missions, fire surveillance, and medical deliveries. In current scenarios their use is typically limited to manual operation by a remote pilot controlling a single Unmanned Aerial Vehicle (UAV); however, we envision drones playing a far more extensive role in emergency response scenarios of the future.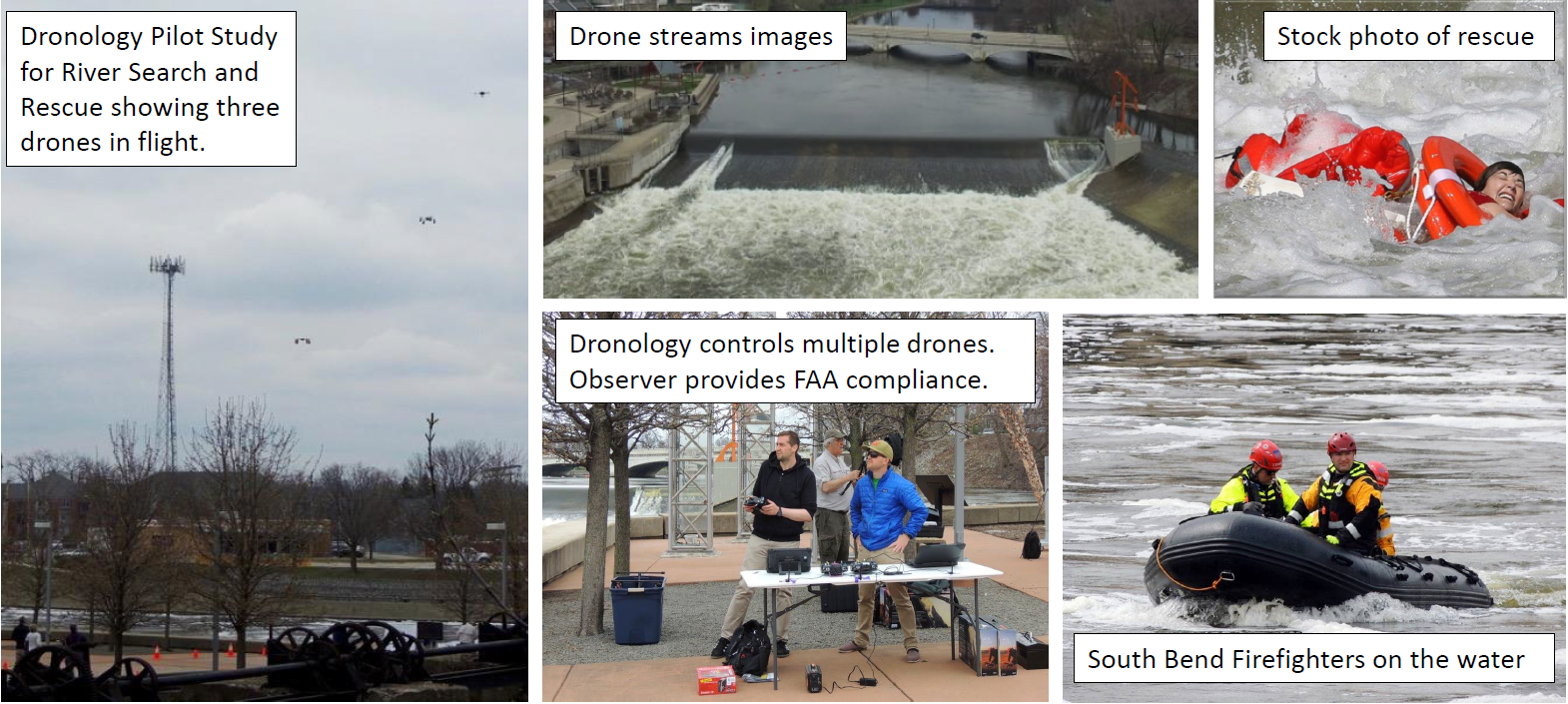 Our project goes far beyond current practice and leverages the capabilities of a cohort of drones to support emergency response scenarios -- serving as semi-autonomous, self-coordinating, trusted members of a mission team. Achieving this vision requires new conceptual models and underlying technologies to empower human-drone partnerships. While human incident commanders are responsible for establishing actionable mission goals, cohorts of drones will contribute towards success of the mission through prioritizing, allocating, and enacting appropriate tasks. In this way, humans and drones will work collaboratively to save lives, minimize property damage, and to generally improve the quality of life for impacted members of the community.
Our Partners
We are collaborating closely with the South Bend Fire Department to develop DroneResponse solutions to support emergency response scenarios such as structural fire and flood surveillance, river rescue, and defibrillator delivery. Our recent project is described in a paper entitled ``The Next Generation of Human-Drone Partnerships: Co-Designing an Emergency Response System''(download here).
Project Timeline
Our project is multi-pronged. Funding started in October 2019 and will continue over the next four years. We are currently working on the following priority areas:
Building on our existing Dronology System and designing new interfaces that support emergency response scenarios.
Working on improved drone autonomy to support diverse mission scenarios including fire surveillance, ice rescue, river rescue, accident surveillance, and air monitoring.
Designing and developing new user interfaces to support situational awareness and to empower emergency responders to interact with, and coordinate, multiple semi-autonomous UAVs.
Building new partnerships to increase the scope of our outreach
Current Research Team
Project Leads: Jane Cleland-Huang and Walter Scheirer
Current PhD Students: Ankit Agrawal, Md. Nafee Al Islam, Sophia Abraham
Other collaborators: Michael Vierhauser, Shreya Kumar
Related Funding
$1,186,394, NSF CPS:Medium:Interactive Human-Drone Partnerships in Emergency Response Scenarios, (Jane Cleland-Huang, Walter Scheirer)
$100,000, SCC-Planning: Coordinated Autonomous Operation of UAVs in Urban First Responder Scenarios, (Christian Poellabauer, Gregory Madey, Jane Huang, Vijay Gupta)
$85,000 CCF-1741781, EAGER: SHF: A Community Case Environment for Empowering Transformative Requirements Engineering Research (June 1st 2017 - May 31st 2018).